Cisa Astral S Anti Pick Euro Cylinder
Cisa Astral S Anti Pick Euro Cylinder
Track your order with a 15 minute delivery timeslot
Description:
Cisa Astral S Euro 10 Pin Cylinder High Security Anti Pick Drill Snap Door Barrel Lock
The Astral S provides the ideal solution against snapping thanks to its snap resistant core.
Cisa Astral S cylinders are British standard approved
Can be used on both UPVC & wooden doors 
Supplied with 3 keys as standard
Extra keys available
Finish - Silver or Brass
Full range of sizes available
Locks available keyed alike
An intruder seeking to break open a door will in most cases choose to attack the lock cylinder using the tools of the trade: drills, pliers, picklocks and other lock-forcing tools.
Passive security is a defensive element because it protects against forcible entry tools with specific mechanisms that provide five types of resistance.
1 Pushing Resistance
CISA cylinders have a cam that protrudes from the cylinder body, to anchor them more firmly to the lock. This projecting cam, in addition to anchoring the cylinder more securely, also prevents it from being dislodged by a hammer blow.
2 Drill Resistance
Depending on the model, CISA cylinders incorporate one or more steel components designed to delay and protect against the performing action of a drill.
3 Picking Resistance
Intruders use lock picking tools to simulate the action of a key. Some high-security CISA cylinders have a design and pin configuration pattern that is specifically made to resist manipulation by a pick.
4 Tearing resistance
Some CISA cylinders incorporate solutions for enhanced resistance to snapping or tearing. The unique patented laminated steel is also visible from both ends as an added visual deterrent. In any case, the determining factor is choosing the correct
Security Card
Offers a high level of service personalisation, giving further protection to the end user. The CISA authorised duplication system is the perfect solution for ensuring that the keys can only be duplicated with the owners consent.
Each cylinder comes with a security card
Technical Data
Key capacity 63,000 Incl. Passive Pins, Durability 100,000 cycles, EN 1303: 2005
Attack Resist Grade 1, Durability Grade 6, Key Security Grade 6.
Dont Know What Size Cylinder ?
Please measure from one side of the cylinder lock (A) to centre fixing screw hole e.g 35mm. Simply do the same measurement with other side (B) 45mm. The cylinder is this case would be 35/45 80mm overall.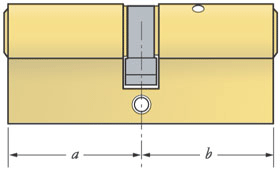 Lock Snapping
Best Sellers
£199.99
£166.66 (exc VAT)
Track your order with a 15 minute delivery timeslot*
Shop now!